Unique Tuscany Wellness Retreat-Sensorial Healing, Somatic Awareness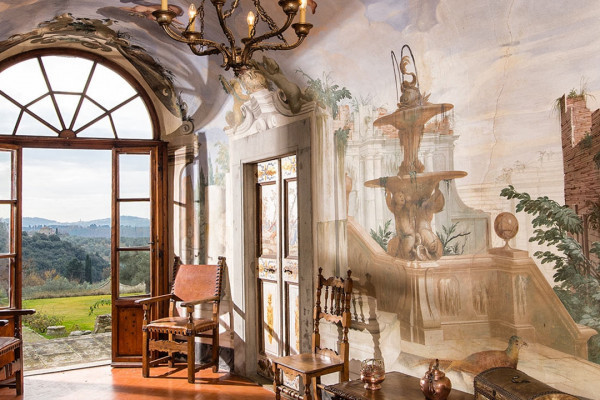 A world first , a unique Tuscany Wellness Retreat with an expert healer to guide you through Sensorial Healing and Somatic Awareness to discover your inner creativity and beauty.
This very special bespoke private on request retreat is a first in Italy.
Includes your own personal highly qualified healing professional.
Your own personal chef to cook the highest quality local Tuscan ingredients.
Further information
Tuscan Beauty and HealingEnjoy a fabulous healing two day retreat in a luxurious Villa in the beautiful Tuscan Countryside Near FlorenceFirst in ItalyThis very special bespoke private on request retreat is a first in Italy.High Qualified ProfessionalIncludes your own personal highly qualified healing professional.Personal ChefYour own personal chef to cook the highest quality local Tuscan ingredients.Listening to our body-healing ourselvesA series of exercises for writers, performers, artists, or anyone interested in hearingwhat their body might have to say. However you express yourself, this workshopwill offer you another entry into inspiration, and new ways of withdrawing materialfrom your inner world.Unlocking our StoriesUnlocking Stories from the Body is a gentle process to bypass the mind and enterthe body; to discover what memories, stories, images, and dreamings arecontained within. Every time you enter the body it will tell you something new, andwe learn how to listen to its language. When deep memory speaks, even stonesawaken to listen.Self ExplorationThe process works with free writing or drawing, to connect expression with feeling.We feel, using our senses to open up the universes within and around us, listeningdeeply to the inner and other worlds, and then we record what we find. Theseworkshops are the perfect complement to self exploration, or to any creativepractice.Trauma SensitiveThe exercises are trauma sensitive,acknowledging that some memories can bechallenging to discover, and people must have tools to enter, exit, and modify theprocess to control "the dose". We learn to listen to cues from the body, and tohonour them.Extensive ExperienceThe practice is adapted from the healer's extensive history in theatre, dance,bodywork, performance art, installation, ritual, and trauma recovery. Suitable forpeople of all ages and fitness levels, who want to discover the stories held withintheir cells, the senses, and the silence.These are Stories From The Body – but which Body?Our own body. Our invisible body. Nature's body. Each other's bodies.Highlights of the Unique Tuscany Wellness Retreat-Sensorial Healing, Somatic AwarenessExpressionCreative ExpressionFree WritingArtists Writers Creatives of all kindsPeople seeking Self KnowledgeSomatic Relaxation Experiences""somatic thinking" which is experiencing the world from a sensory first-personwhole body perspective."EmbodimentSensorial AwarenessMindfulnessNature ImmersionSensory ImmersionDeep listeningInner worldInner dreamscapeMemoryTrauma SensitiveStorytellingSelf WisdomSelf KnowledgeSelf ExpressionBodyworkBody ExpressionSensory MeditationMovement Meditation